Mel Kiper A Big Fan Of Sean Tucker
May 2nd, 2023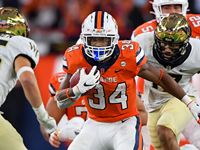 Joe is always a fan of readers sending Joe tips and links to cool Bucs stories.
Regular reader "Brandon" sent Joe a couple of links where Mel Kiper, the long-time BSPN draftnik, had spoken to the Syracuse Post-Standard and said Bucs undrafted free agent running back Sean Tucker was his favorite running back in the draft.
Tucker went undrafted possibly due to what veteran NFL scribe Bob McGinn reported as "an ongoing heart issue," though McGinn wasn't specific about the condition.
(Unfortunately, the Syracuse Post-Standard story in question is behind a paywall.)
Kiper noted Tucker wasn't the best running back in the draft, but Kiper loved watching him. In Kiper's listing of top players at each draft position, he had Tucker as his No. 8 running back.
If Tucker can get cleared by doctors, this could be an absolute steal by Bucs AC/DC-loving general manager Jason Licht. In his final two seasons at Syracuse, Tucker ran for over 2,500 yards and 23 touchdowns.
So not only did Tucker get production, he also impressed a guy who just finished his 40th draft working for BSPN.
Sean Tucker has signed with the Tampa Bay Buccaneers with some guaranteed money coming his way, but @SteveInfantiNC9 & @pauliescibilia can't help but wonder about his future with the latest news regarding the former Syracuse RB's health. pic.twitter.com/BPueSHteoJ

— Cuse Sports Talk (@CuseSportsTalk_) May 1, 2023