"I'm The Biggest Jason Licht Fan"
May 28th, 2023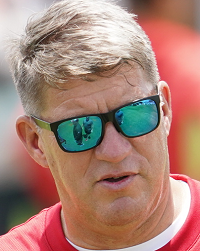 History shines a flattering light on Tampa Bay Buccaneers general manager Jason Licht even if a minority sect of cynical Bucs fans bark that Licht saved a sinking career by hiring his buddy Bucco Bruce Arians and lucking his way into signing Tom Brady.
Yeah, some people espouse that kind of nonsense.
Obviously, Licht struggled prior to Arians coaching a game in Tampa and Brady putting on a Bucs uniform. But Licht also had loaded up on an undeniably impressive array of talent on both sides of the ball.
One man in Licht's corner is former Bucs guard Ali Marpet. While delivering commentary on The Beer Money Podcast, Marpet sang the praises of Licht and noted something Joe had not heard previously.
Per Marpet, many NFL teams graded him before the draft as a fifth-round pick.
He also relayed a story about how the Buffalo Bills worked him out as a tight end and felt good about him there. Marpet said he ran routes for Buffalo's offensive coordinator, tight ends coach and offensive line coach for about half an hour.
"I did O-line stuff for like five minutes and then ran routes for like 30 minutes. Honestly, I caught everything. I think I was slow as heck, but I caught everything," Marpet said. "In my head, I was like, 'This would be the coolest thing ever. Let's go to Buffalo. I can cut weight."
Ironically, the Bills, based just 90 minutes from Marpet's Division III Hobart College program, drafted a different guard in Round 3 of the 2015 NFL Draft — 20 picks after Marpet.
"I'm the biggest Jason Licht fan," Marpet said. "I think he's amazing, and obviously I'm biased. But I feel incredibly fortunate that he took a chance on me, and he's not afraid to take those chances and stand by what he believes. And I think he's a terrific talent evaluator. For at least my situation, like I know there were teams that had fifth-round grades. It's not Madden. It's not like there's a rating. Talent evaluation is a really complicated piece, the psychology behind it, the development of it. And I think that's something [where] Jason has done a terrific job."
Everything surrounding the Bucs' selection of Marpet, a key Super Bowl cog, is a gold star on Licht's résumé.