Clear Priorities For The Offense
May 19th, 2023
BY IRA KAUFMAN
After helping Todd Bowles choose a new quarterback for 2023, Dave Canales can get down to work.
The first order of business? Addressing two areas of weakness that sapped the life out of a once-potent offense.
The Bucs struggled on third down and in the red zone last year, despite Tom Brady taking virtually every snap. The absence of Rob Gronkowski was an obvious factor on both fronts and now Canales faces the challenge of keeping the chains moving and capping off drives with touchdowns instead of field goals.
It's a tall order, considering neither Baker Mayfield nor Kyle Trask has a history of NFL success in these two sectors.
In 2021, Brady's attack ranked No. 2 in the league, converting third downs at a 47.1 percent clip. That was a sharp uptick from 2020 (43.5 percent) and the 41.5 percent conversion rate under Jameis Winston in 2019.
But when Gronkowski departed, he took Tampa Bay's third-down success with him. The Bucs just went busted on the money down, finishing 21st in the league with a 37.4 percent success rate.
Drilling down on the numbers, the 2022 Bucs faced 23 more third-down situations than the previous season, yet finished with 13 fewer conversions.
Third-down efficiency was a key NFL metric last season. The top six clubs in handling the money down — Buffalo, Kansas City, Cincinnati, Philadelphia, Dallas and San Francisco — all made the postseason.
The bottom eight paid a heavy price for their failures.
The Broncos, Texans, Panthers, Colts, Jets, Patriots, Commanders and Cardinals combined for a 46-87-3 record. None of these bottom feeders made the playoffs and none boasted a winning record.
What happened?
Tampa Bay got so little from its ground game that the 2022 Bucs were constantly behind the sticks. Facing 3rd-and-7 is a lot different than 3rd-and-3 in terms of utilizing your entire playbook and keeping defenses honest.
There's no great secret why the Chiefs converted 49 percent of their third-down opportunities last season. Patrick Mahomes is money on the money down, completing 63 percent of his throws, averaging a whopping 9.4 yards per pass attempt and posting a QB rating of 109.8.
A Baker Weakness; A Brady Weakness
Through his 72-game career, Mayfield's completion rate on third down is 56 percent, with 26 TD passes, 24 interceptions and a pedestrian QB rating of 73.2.
Tampa Bay's red-zone woes also contributed significantly to an 8-10 record and a plodding offense.
From 2019-2021, the Bucs ranked fourth, seventh and second when it came to scoring touchdowns deep in enemy territory. That strength became a weakness last year as Tampa Bay finished at No. 22. Only 26 of 50 ventures into the red zone resulted in TDs, with Gronkowski's retirement once again a prominent factor.
If the Bucs can upgrade their efficiency on third down and in the red zone, the days of averaging a mere 18 points should be history.
Here's one more job for Mr. Canales:
Brady's dink-and-dunk passing game didn't work in 2022. In his frantic efforts to avoid being hit, Brady threw early and he threw short. His average of 9.6 yards per completion ranked No. 32 among quarterbacks, just below Steelers rookie Kenny Pickett.
The Bucs averaged 11.0 yards per completion in 2021 and 11.6 yards in 2020. Before Brady came along, Jameis Winston averaged 13.4 yards per completion in 2019, second in the league behind Ryan Tannehill.
The problem that year was Winston also threw 30 completions to the opposition — the most by an NFL quarterback since Vinny Testaverde was picked off 35 times in 1988.
Canales has plenty on his plate, but his focus should be on the meat and potatoes. Moving the chains and cashing in near the goalline are priorities. A better run game would make those third-down situations more manageable.
Like Mike Tyson famously said, "Everyone has a plan until they get punched in the mouth."
It's time for the Bucs to punch back.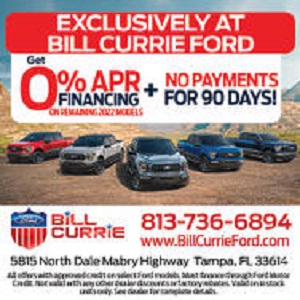 Putting you back on the road to reliability. Click the link to see our current service specials! https://t.co/X06Jy0KndA pic.twitter.com/b9c3x0Yklr

— Bill Currie Ford (@BillCurrieTampa) May 18, 2023