Calijah Kancey Blames (Thanks?) "The Candy Ladies"
May 1st, 2023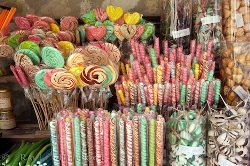 Pretty cool story about how new Bucs defensive tackle Calijah Kancey became one of the premier defensive tackles in college football and a first-round pick.
It all started with "The Candy Lady."
Back in March, Kancey made an appearance on "Good Morning Football" where he discussed how he was a running back on his youth football team in Miami.
You know how a lot of Little League baseball teams will bring the players to Dairy Queen if the team wins? Well, that was sort of a deal Kancey's family had worked out with him. Whenever Kancey had a good game for his youth football team, Kancey got to stay at his cousins' apartment.
The reward? That's where one of "The Candy Ladies" could be found. "The Candy Ladies" apparently ran the concession stand at Kancey's youth football games.
Kancey played a lot of good football. So he kept going to his cousins' pad and paid a visit to "Mrs. Morgan," one of the "The Candy Ladies." It sounds like she may have run a convenience store as Kancey listed all the things he used to get from them.
Kancey played so well, he got to know "Mrs. Morgan" too well. He began packing on the pounds because of all the munchies he would wolf down. He put on so much weight, his coaches moved him from running back to defensive tackle. And we all know the rest of the story.
Below is Kancey's visit on "Good Morning Football" and he tells the story about how "The Candy Ladies" changed his life.
. @Pitt_FB DT Calijah Kancey wakes up with GMFB to tell us what (or who) made him make the switch from running back 🍬🍭 pic.twitter.com/GPYOhfmEE6

— Good Morning Football (@gmfb) March 21, 2023