Bucs Signing Veteran Receiver David Moore
May 15th, 2023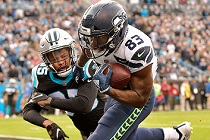 A former NFL touchdown maker with a recent legal history is the newest Buccaneers receiver.
No, it's not furniture-hurling, bicycle-throwing quitter Antonio Brown.
The NFL Network ticker says the Bucs are about to sign 28-year-old receiver David Moore, who caught 13 touchdown passes for Seattle through the 2018, 2019 and 2020 seasons.
Since then, Moore has had five teams, no catches and one arrest after allegedly falling a sleep in his Ford truck in a Texas Taco Bell drive-thru late at night. Police claimed sleepy Moore smelled like marijuana and had three pistols with him.
A seventh-round draft pick of Seattle in 2017, Moore was coached there by Bucs offensive coordinator Dave Canales. Moore moved on to a muti-year contract in free agency with the Panthers, but he was cut before the regular season started.
Joe likes that Moore has experience finding the end zone and 16 starts under his belt, including two in the postseason.