Bucs Add Veteran QB John Wolford
May 9th, 2023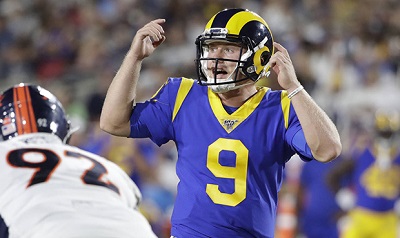 The Bucs signed a veteran quarterback who played for Todd Bowles and owns a Super Bowl ring.
John Wolford is in the house as of today. He was an unsigned free agent of the Jets in 2018, Bowles' final season in New Jersey.
Wolford was cut by the Jets after the 2018 preseason. He landed in the defunct AAF and then resurfaced the following spring with the Rams, where he stayed for four seasons.
The Wake Forest star is a small dude a fraction under 6 feet tall and about 200 pounds. He was 1-2 as a starter last season in Los Angeles, where he was a teammate of Baker Mayfield. In 2021, Wolford was the Rams' No. 2 quarterback behind Matthew Stafford when Los Angeles won the Super Bowl.
Probably the most important Bucs-related connection is Wolford played for Rams head coach/offensive guru Sean McVay. Elements of McVay's offense are a big part of the Seattle offense under Seahawks playcaller Shane Waldron, the former Rams QB coach. And new Bucs offensive coordinator Dave Canales is bringing that offense to Tampa with his own spin.
No, 27-year-old Wolford will not be competing for the Bucs' starting QB gig.