Bruce Arians Talks Fixing Errors & Losing Leaders
May 29th, 2023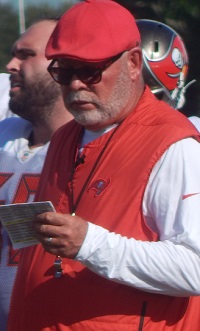 Was Todd Bowles too soft on our beloved Tampa Bay Buccaneers offense last season, including Tom Brady and playcaller Byron Leftwich?
It's a good question. It seemed like Bowles was far too hands-off as the running game languished and points were hard to come by.
It never felt like Bowles sat Brady and Leftwich down with key players and coaches and said, 'Let's overhaul the damn thing now if we have to. We can't win a Super Bowl like this and that's the only reason we're here.'
Of course, Joe doesn't have a seat in the meeting rooms at One Buc Palace and Bowles was in a very challenging spot after not starting as head coach until April, and with a strong-willed living legend at quarterback.
Bucco Bruce Arians did an interview on KMVP radio in Arizona earlier this year and talked about hard coaching and how necessary it is.
"I think you have to be demanding. If it's not perfect, you gotta fix it," Arians said. "So I think the really good ones all are."
Arians added it's easy to coach in good times but the real challenges come while losing.
So was Bowles "demanding" the offense find fixes? That's unclear. But it is clear Bowles knew massive change was necessary as Leftwich and other assistants were fired in a hurry in January.
Arians thinks the Bucs' woes last season were about injuries first and foremost.
"Because when you take Ryan Jensen out, I mean that's the heartbeat of the offensive [line], the whole running game, the toughness," Arians said. "And Robert Hainsey came in and did a nice job, but it's not the same when you take an All-Pro guy out, and he's a leader. We lost Shaq Barrett. We lost some leaders, not just injury. We lost some key guys."
Joe will losing Jensen and Shaq cost the Bucs two victories last season. Joe thinks if those guys were healthy, then the Bucs would have been 10-6 going into the final meaningless game.
That doesn't mean the Bucs would have beaten Dallas in the playoffs and and marched to the Super Bowl. But it would have meant lot less fans ready to throw Bowles off the pirate ship.