Big Decisions For The Bucs & Mike Evans
May 28th, 2023
BY IRA KAUFMAN
This is shaping up to be one heck of a consequential season for Mike Evans.
The most accomplished wide receiver in franchise history still has something to prove this fall. Approaching the end of his second Bucs contract, the initial draft pick of the Jason Licht era could become a free agent in 2024.
Evans, who turns 30 in August, has topped the 1,000-yard mark in each of his nine years at One Buc Place. That's a compelling Hall of Fame resume, and there's no reason to think Evans can't continue to play at an elite level for several more years.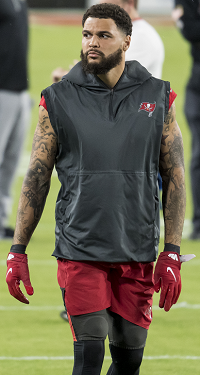 But will he end his career as a Buccaneer?
That's the $13 million question, which happens to be his base salary for the upcoming season. Speculation is growing that the Bucs might trade Evans this summer to loaded teams like the Chiefs or Bills, creating more cap space while accumulating draft capital.
That's not going to happen.
Licht, Todd Bowles and, most importantly, the Glazers, see a grand opportunity for a third consecutive division crown. They see a new starting quarterback who would suffer greatly if Evans departs. They see a trade involving Evans as a clear signal to the fan base that Tampa Bay is in full rebuilding mode.
Evans will start the season as a Buccaneer. What's far less certain is whether he will finish 2023 in Tampa.
If things go awry and the Bucs are sitting at 2-5, ownership and management could revise the franchise's approach and build toward 2024. That would leave an Evans or a Devin White in vulnerable positions — players who can fetch a decent return in a trade.
Guess who has a lot to say about determining Tampa Bay's direction?
Mike Evans.
In his first two years catching passes from Tom Brady, Mike Evans reached the end zone a combined 27 times. That's an extraordinary achievement.
Larry Fitzgerald never caught 27 TD passes over a 2-year span. DeAndre Hopkins didn't do it, either. Julio Jones? Hell no.
But last season, as the Buc offense cratered around Brady, No. 13 celebrated only six times in the end zone. Wait, it gets worse. After scoring twice against the Chiefs in Week 4, Evans went 11 consecutive games without a TD reception. That's the NFL equivalent of dereliction of duty.
In those 11 games, Evans caught only 51 passes for 682 yards. That's not Mike Evans — that's Ike Hilliard.
That's not the Mike Evans Buc Nation has grown to embrace, the durable, physical target who excels at community service and typically plays with an edge.
It's worth noting that in the biggest game of the season, Evans caught 10 passes for 207 yards against the Panthers, including three long TD receptions.
Six times, Evans has been voted by his peers as one of the league's top 75 players. His average of 76.1 receiving yards per game ranks No. 12 on the all-time list, ahead of Jerry Rice and Michael Irvin.
The only substantive knock on Evans is he tends to disappear against the Saints. Since corner Marshon Lattimore entered the NFL in 2017, he has had a knack of crawling inside the head of Evans and weakening his focus.
If the Bucs have a successful season, it would be wrenching to see Evans walk away as a free agent. Chris Godwin has never been viewed as a No. 1 wideout … who knows how he would handle the extra attention sent his way if Evans departs.
Should the Bucs go 8-9 again, it may be wise for all concerned if Evans moves on and has a better opportunity to secure another Super Bowl ring.
Keep an eye on No. 13 this fall. We may be looking at his last waltz as a Buccaneer.

Ira Kaufman Makes A Bold Mike Evans Call, Talks Behind The Scenes At OTA Day 2, Donovan Smith Chatter, And Much More