The Bucs & Anton Harrison
April 25th, 2023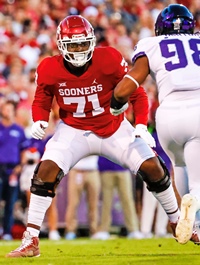 Joe has written about the big Oklahoma left tackle in the draft and it's time to revisit the option after a big name puts him in Tampa this week.
Buccaneers fans made their voices heard loudly. The majority believes general manager Jason Licht's should be laser-focused on the offensive line Thursday night when the NFL Draft begins.
Former Bucs quarterback and current NBC NFL analyst Chris Simms thinks Licht will honor the fans' wishes.
Simms does one mock draft a year and it's about what he thinks teams will do based on his intel and assessment. Simms chose Oklahoma left tackle Anton Harrison as the Bucs' selection at No. 19 overall.
Yeah, it could be that simple. Bucs need a left tackle; Bucs draft a left tackle.
Maybe Licht doesn't want two first-round picks on his offensive line? Only one offensive linemen drafted in Round 1 started in the Super Bowl last season. However, it is certainly not rare to have multiple first-round picks on an offensive line, and Joe doesn't think Licht has set restrictions on himself.
The Jets, for those unaware, mauled their way to back-to-back AFC Championship games without a decent quarterback after drafting left tackle D'Brickashaw Ferguson and center Nick Mangold in the first round of the 2006 NFL Draft.
Harrison is an aggressive player considered to have well-refined skills with an explosive get-off.
Harrison also told SiriusXM NFL Radio that he's been working out with fellow former Sooners Orlando Brown and Creed Humphrey to try to learn what he can to be an top-tier NFL lineman. Smart! Harrison admitted to following Brown around like an eager puppy.
Joe has a thing for Sooners offensive linemen because of their college line coach, Bill Bedenbaugh, He's pumped out quite a bit of NFL talent.