The Bucs And Devon Achane
April 4th, 2023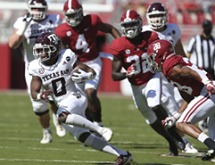 Years ago, Joe would sometimes make time to go watch an elite high school football player in the Tampa Bay area.
Dexter McCluster was one of those guys.
The historic standout running back at Largo High School hammered and hammered away while standing just 5-8 and lacking much size. And he was a man among boys, averaging roughly 200 yards and 3 touchdowns per game as a senior.
McCluster starred at Ole Miss and was an early second-round pick of the Chiefs in 2010. Former Chiefs offensive coordinator Charlie Weis said on SiriusXM NFL Radio today that he fell in love with rookie McCluster, and McCluster went on to be a successful third-down back and a Pro Bowl returner.
McCluster was a subject on the air today during a discussion of Texas A&M running back Devon Achane, aka "The A-Chain." Weis was barking that Achane is McCluster, except Achane is faster sporting 4.32 speed.
The draft gurus largely see Achane as a third-round pick later this month. Joe hears Achane's name and wonders if the Bucs will decide to prioritize their punt/kick return game and target Achane, who is so darn fast that he also represents a change-of-pace running back for nearly every NFL team.
Joe isn't worrried about Achane's size (5-8 1/2, 188 pounds). There have been a lot of successful small backs in recent years, including Devin Singletary, who Joe was lusting for in free agency. He signed with the Texans last week.
Joe isn't lobbying for Achane, but Joe would love to see some juice added to the Bucs' return game, and not the kind being squeezed from Deven Thompkins. Plus, Achane sure would be a unique complement the more deliberate running style of Rachaad White.