"That Was Not The Same Matt [Feiler]"
April 14th, 2023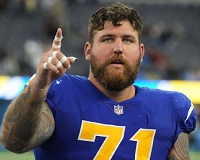 Joe was knee deep in film all through the night watching new Buccaneers guard/tackle Matt Feiler.
Feiler 30, was signed this week after two well-paid years with the Chargers as their starting left guard. He entered the NFL as an undrafted free agent in 2014 and was a practice squad guy with the Texans and Steelers before finally getting playing for real with Pittsburgh in 2017.
A Steelers starter at right tackle in 2018 and 2019, Feiler moved to left guard in 2020 and then cashed in with the Chargers in free agency.
Joe was pleased to learn that a lot of Steelers fans wanted Feiler to return after the Chargers made him a salary cap casualty in March.
Former Pittsburge linebacker Arthur Moats is a popular Steelers media guy and he spoke on his YouTube channel about how much Feiler developed. Moats used to face him in practice.
Feiler was such growth project, Moats said it's hard for him to think of Feiler and not remember the raw version.
"I gotta not think of practice squad Matt Feiler or when he was just figuring it out Matt Feiler," Moats said. "When [I] was seeing him in person, that was not the same Matt."
Moats agreed with the notion floated by his co-host that Feiler was "damn good the last two years [in Pittsburgh]. And Moats acknowledged that Feiler can be a starter for a lot of NFL teams now after what he showed with the Chargers.
Joe really likes this addition of Feiler. You can't teach 6-6, 330 pounds, plus he's got a starter's mentality to push the mix of inexperienced guys fighting for jobs on the Bucs' offensive line.
Overall, Feiler's 2022 film won't be shown at O-line clinics this summer, but he's certainly a legitimate and durable player, and possibly a significant upgrade if he can recapture his 2021 form.