Statheads Not On Board With Baker Mayfield
April 25th, 2023
Joe's a big fan of handicapper turned stathead Warren Sharp and his gang at Sharp Football Analysis. But let's be real, even the smartest guys lose at least 30 percent of the time in football wagering.
For example, Joe remembers how Sharp used to wail on Twitter in 2020 about how the Bucs almost always run on first downs. Sharp wasn't wrong but guess what? The Bucs won the Super Bowl.
So Sharp and his gang did a breakdown recently on Bucs quarterback Baker Mayfield. Sharp assumes Mayfield will start because, well, Mayfield has won a playoff game and Trask's NFL resume is a grand total of nine passes and three completions.
Sharp and his crew aren't feeling what the Bucs are selling on Mayfield.
In 2022 with the Panthers and Rams, Mayfield was 31st among 33 qualifying passers in expected points added per dropback (-0.16), 30th in success rate (35.6%), and 29th in yards per pass attempt (6.5 Y/A).

If looking for a silver lining, at least Mayfield will be throwing to multiple viable wide receivers. All he had in 2022 was D.J. Moore for his stint with the Panthers before taking over a Los Angeles offense down Cooper Kupp.
Mayfield wasn't awful with the Ramx. He showed flashes of why he was a No. 1 overall pick by the Browns.
As Joe points out about Mayfield, and for some odd reason it triggers readers, the Rams wanted to keep him. Baltimore wanted to sign him. Did John Harbaugh and Sean McVay suddenly turn stupid overnight?
Hey, if Mayfield works out, the Bucs have their quarterback for maybe the next five years. If Mayfield shats the bed, perhaps the Bucs go out and get Michael Penix or Quinn Ewers next year.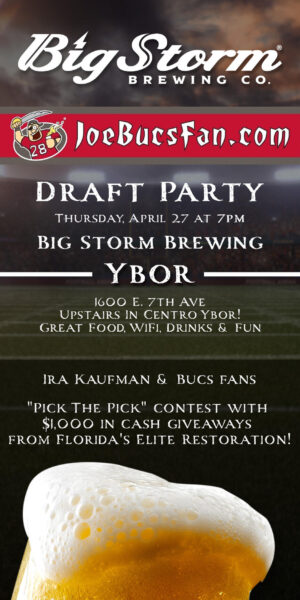 Great fun ahead at the brand new Big Storm taproom in the heart of Ybor City!
Upstairs (2nd level) in Centro Ybor with public parking all around. It's big, bold and beautiful.
…Courtesy of Florida's Elite Restoration, you can win $500 in our "Pick The Pick" contest, which was a huge hit at the 2021 NFL Draft party, plus another $500 in an additional contest. Hang with great Bucs fans, Ira Kaufman and Florida's best craft beer, cocktails and excellent food.