Running Game Identity Is New Mantra At One Buc
April 17th, 2023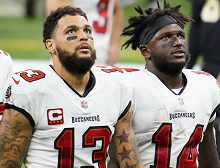 The Free Ke'Shawn Vaughn/Draft Bijan Robinson movements will love this.
Many Bucs players returned to work today, Day 1 of the formal offseason conditioning program.
Joe doesn't care about guys doing squats and running sprints, but Joe is very interested in the messaging from first-year, first-time offensive coordinator Dave Canales.
The message was clear, Pro Bowl right tackle Tristan Wirfs told media today. Canales says the team identity will be its running game, and everything on offense will flow from that.
That's quite a radical change for the NFL's worst rushing attack in 2022.
None of this is a surprise, but today Canales officially got to start hammering in the edict. Wirfs said it felt great.
"I think it's going to be great. I'm really excited," Wirfs said. "The O-line is really excited to get cracking on the playbook. … I think all offensive linemen want to run the ball. And a guy comes in and says, 'This is what we're going to do; this is going to be our identity. We're going to base things off the run game and get our explosives off of that. It's going to be good. I'm excited. We got like a little taste of it today. You know, I don't even know anything and I'm excited. I just saw the philosophy and I was ready to go."
Joe's all for pounding the rock, but Mike Evans and Chris Godwin remain the clear strengths of the Bucs offense until proven otherwise.
---
Ira Kaufman Reads Between Jason Licht's Lines, Explores Todd Bowles' Development Record, Talks The Cam Jordan Mess, Drafting Wide Receiver, And Much More