It's Not About The Stats
April 14th, 2023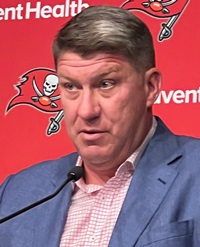 Joe swears he didn't try to set up Jason Licht.
The Bucs' AC/DC-loving general manager yesterday had his annual pre-draft press conference and, obviously, Licht would not show his hand on what he plans to do in less than two weeks when the draft kicks off.
With Bucs sacks king Shaq Barrett's status up in the air coming off an Achilles injury and Joe Tryon-Shoyinka not yet having turned the corner, Joe wonders if the Bucs might draft an edge rusher. Again.
When Joe asked Licht a pass rusher question, Licht chuckled. He knows Joe has a hangup about sacks. So Joe asked Licht what he considers a good rookie year for a pass rusher? Most rookie pass rushers have little impact.
Joe was actually looking for a number. But Licht wouldn't go there. He said it's not always about stats.
"Helping us win games, playing hard, playing well, affecting the quarterback [and] helping us play good defense," is how Licht described a solid rookie season from a pass rusher. "Sometimes it's not in the stats. A lot of people want to relate it to the stats, but it's not always in the stats."
Maybe Licht thought Joe would use whatever number he might have offered to go after Tryon-Shoyinka and Logan Hall. Not so. Every fan knows the Bucs need more than four sacks from JTS. And we all know Hall simply didn't show up last year (even if he did tie for fourth on the team in quarterback hits). Way too early to throw in the towel on him.
Regardless, the Bucs need more sack production from JTS and Hall if they plan to compete for a division title this fall. It's no more complex than that.