Is Vita Vea's Contract In Devin White's Head?
April 13th, 2023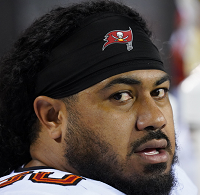 As Vita Vea's fourth regular season concluded and the playoffs were about to begin, Tampa Bay extended his contract with a beastly four-year, $73 million deal.
Devin White? His fourth season ended with a losing record and a contract offer (non-offer) that led to him asking to leave town.
Players love to compare themselves to peers at their position, but they also look up and down their own roster to check on who's getting paid.
Joe wonders if White sees Carlton Davis, Jamel Dean, Vita Vea and Shaq Barrett with fatter salaries than his and thinks it's unfair. He also may not like the idea of asking for a monster deal next offseason when Antoine Winfield Jr. will be doing the same thing.
Head coach/defensive playcaller Todd Bowles says White is a "top-2" player on the Bucs' defense. Bowles clarified by explaining White is top-2 every single week – and other players periodically join him as the No. 1 or No. 2 of the game.
White is an emotional dude, so Joe truly believes White thinks he's being disrespected by the Bucs' front office. He's played hard and he's played hurt, and he embraces leadership and has produced.
In White's mind, Joe believes, he's at least as deserving of a market value contract like Vita Vea was last season. Heck, White plays every snap and Vea doesn't even play two-thirds.
Joe hopes the Bucs can somehow kiss and make up with White, but it sure appears doubtful. And if White really doesn't want to be in Tampa, well, then Joe's happy to score extra draft picks and salary cap room.
Ira Kaufman Takes An Extremely Deep Dive Into All Things Devin White Wanting Out Of Tampa, And More