"I Never Think It's Fair"
April 3rd, 2023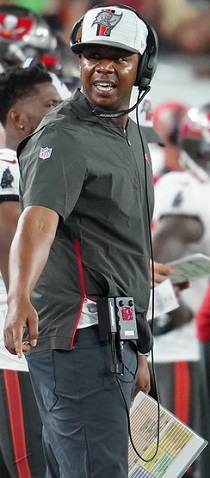 When Joe chatted with Team Glazer last week at the NFL Annual Meeting, the subject of defrocked offensive coordinator Byron Leftwich was raised.
Bucs fans threw all kinds of heat Leftwich's way for a Bucs offense that woefully underachieved and was the league's worst in rushing the football. Leftwich was the fall guy — during and after the season.
Was it justified, Mr. Glazer?
JoeBucsFan.com – Did Byron Leftwich deserve all the heat that came his way last year, when many Bucs fans singled him out as the primary culprit in an 8-10 season?

Buccaneers co-owner Joel Glazer: Byron helped lead us to a Super Bowl championship. You know how sports is — whenever you don't get the results everyone was hoping for, some people want to start looking in one area or another area. I never think it's fair when anybody points to one person. It's a team game, a team effort and team result. Our record is our team record and doesn't just fall on one person.
Hey, Joe felt compelled to go there. What a polarizing figure Leftwich was, though he probably won't be this season because he is unemployed.
Head coach Todd Bowles talked this week about what a good relationship Leftwich had with Tom Brady and they had good give and take and the Bucs rolled often with what made Brady comfortable.
Joe will dive into that more later this week, but regardless, Joe believes Leftwich deserved all the finger pointing that was thrust upon him.