"I Just Don't Think He's The-Take-On Guy"
April 12th, 2023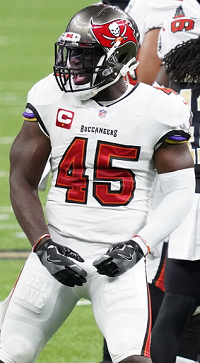 So how good is Buccaneers savior linebacker Devin White?
A former running back, a guy who paid close attention to the Bucs during the Tom Brady years, shared his opinion.
James White played six seasons in New England with Brady and is a renowned Super Bowl hero up there (Ira has a not-so-secret crush on the guy). Since retiring last summer, White often has been a co-host on SiriusXM NFL Radio, as he was this morning.
James White talked about Devin White wanting to be traded from the Bucs, per yesterday's news, and noted the Bucs could be losing an excellent player but not a do-everything, all-world guy.
"He affects the running game, I just don't think he's the-take-on guy, which there's nothing wrong with that," White said. "Not every linebacker … if you get a hat on him, then the offensive line is probably winning. But it's hard to get a hat on those guys; it's really tough for these linemen to block these fast linebackers, guys who can shoot the gap and avoid these blocks. Linemen, they're not built to play in space. And [White] is great at diagnosing plays and just getting to the ball, and I think that's what makes him special."
Co-host and former NFL defensive back Solomon Wilcots agreed with the premise that Devin White isn't a guy who can shed an offnesive linemen. Both retired players likened White to a less football-smart version of Luke Kuechly.
Wilcots said Devin White is probably an $18 million-per-yer linebacker on the current market, not the $20 million guy he likely thinks he is, aka Roquan Smith territory.
Joe knows White is an excellent linebacker who can be more consistent and dynamic. And Joe thinks it's a little odd that White wants to break the bank after not leading the Bucs in tackles last season.
That honor went to Lavonte David.
Ira Kaufman Takes An Extremely Deep Dive Into All Things Devin White Wanting Out Of Tampa, And More