Gerald McCoy Offered To Ride Bench For Bucs Last Season Just To Coach Up Messy, Ineffective Pass Rush
April 18th, 2023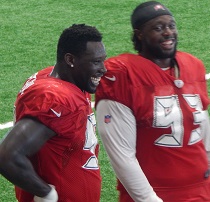 It seems six-time Bucs Pro Bowl defensive tackle Gerald McCoy thinks the Bucs needed a coaching upgrade the past two seasons.
That was the clear message during McCoy's appearance on the recent Green Light podcast.
"I even told Tampa, 'Hey listen, I don't have to play; I just want to be a mentor because y'all doing a lot of wrong up front," McCoy said of the Bucs' defensive line.

"You have talent and y'all not rushing together. Guys are not getting on edges. They're just running down [the] middle of people. It's just bull [rush], bull, bull and I seen a lot things I could help with just teaching guys, 'ok, this is how you rush together.' And I told them, 'hey listen, I don't have to play. Like, even if I'm on practice squad I'm still sitting in the meetings."
Of course, McCoy was never signed and he officially retired this month.
McCoy said he ended up getting his Bucs-coaching fix in via texting players he knew well, like Rakeem Nuñez-Roches and Vita Vea, among others.