Can Darnell Wright Last To No. 19?
April 21st, 2023
It seems everyone and his brother believes the Bucs will draft a tackle on Thursday night.
What tackle would that be?
Most Bucs fans have Tennessee right tackle Darnell Wright circled. He didn't give up a sack last year. And when he faced beast Will Anderson of Alabama, Wright owned him.
Former NFL scout and current NFL Network draft guru Daniel Jeremiah is really high on Wright and believes he can start right away.
"I think if you are just saying as a pure tackle, his tape is really, really good," Jeremiah said in an NFL Media conference call yesterday. "And playing on the right side this year, everybody has talked about the fact that he took a big leap in this year, but it's hard to find guys that are 330 pounds that move like him and are as strong as he is at right tackle.

"I think he is plug-and-play. I think he is ready to go."
It seems the Bears have been sniffing around Wright a lot and the chatter in the Windy City is that he doesn't get past them at No. 9.
Jeremiah believes the Steelers will grab him at No. 17.
Would Bucs AC/DC-loving general manager Jason Licht be motivated to trade up a couple of spots if Wright is still on the board at, say, No. 15?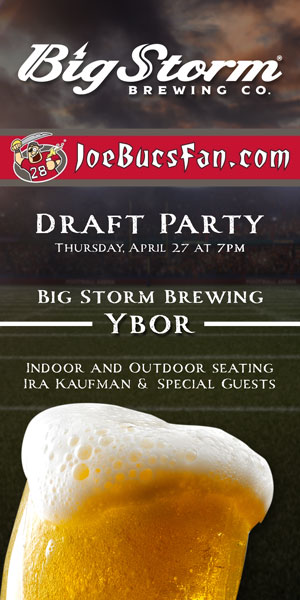 Great fun ahead at the brand new Big Storm taproom in the heart of Ybor City! Upstairs (2nd level) in Centro Ybor with public parking all around. It's big, bold and beautiful.
…Courtesy of Florida's Elite Restoration, you can win $500 in our "Pick The Pick" contest, which was a huge hit at the 2021 NFL Draft party, plus another $500 in an additional contest. Hang with great Bucs fans, Ira Kaufman and Florida's best craft beer, cocktails and excellent food.