Will Kicker Shopping Start With Eddy Piñeiro?
March 23rd, 2023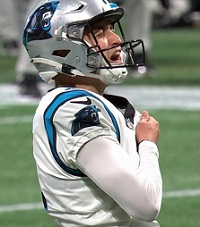 Update: Carolina re-signed Piñeiro. The upside of the Bucs cutting 36-year-old kicker Ryan Succop today is now they can sign a better and younger kicker.
And Bucs officials want a younger team.
They made that clear last month at the NFL Scouting Combine.
Succop was too old to expecting him to improve his game.
Joe has an eye on Panthers free agent kicker Eddy Piñeiro. The former Gators kicker was an undrafted free agent signee of the Raiders in 2018. Chucky loved the guy.
Piñeiro was then traded to the Bears after the season and won the Chicago job and proceeded to hit only 82 percent of his field goal attempts in 2019. (Succo hit 81.6 percent last season). A groin injury knocked Piñeiro out of the 2020 season before he bounced from Indianapolis to Washington to the Jets in 2021. His only kicks that season were for New York and he was a perfect 8-for-8 to close that season.
In 2022, he scored a free agent deal with the Panthers and had a great year, as fantasy football players know very well. Piñeiro was a stunning 33-for-35 on field goal attempts, including a perfect 2-for-2 from 50 yards or more.
If the Bucs want to get younger at kicker but stay experienced, and land a hot kicker with experience in the heat, Piñeiro could be an affordable choice for a multi-year deal.
Joe watched Piñeiro choke away arguably the wildest game of the regular season, the Panthers' 37-34 loss to Atlanta in Week 8. He missed an extra point in regulation and a 32-yarder in overtime, but he was lights out the rest of the season.