"The Most Important Incentive"
March 17th, 2023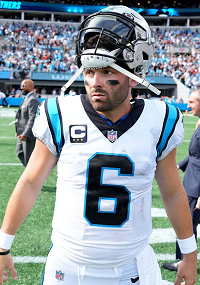 The Buccaneers have a starting quarterback in the house disguised as a guy competing with Kyle Trask.
Hey, Joe's going to call it as Joe sees it.
Baker Mayfield is that quarterback, and the Bucs got him on a surprisingly inexpensive deal, a max of $8.5 million of Mayfield hits incentives on his one-year contract.
Former Bucs QB Chris Simms loves the move for Tampa Bay and dissected it for PFT Live on NBCSports.com. 
"He's still got a lot of starting-caliber traits," Simms said of Mayfield.
What triggered Mayfield to sign cheap?
"The most important incentive was the fact that he gets a chance to be at a place where he can start. And I don't know if there was any other place out there that he was going to be trusted in that situation. I don't," Simms said, noting he believes Raiders head coach Josh McDaniels likely didn't like the risk of public scrutiny that would have come with signing Mayfield.
Co-host Mike Florio noted how Mayfield is betting on himself again, similar in a way to what he did when he gave up guaranteed money to get out of Cleveland.
Mayfield bet on himself in Carolina last season with a contract that had strong incentives. Mayfield didn't have a good start there and then Carolina decided to tank by dumping top players and benching Mayfield; so Mayfield asked to leave, was granted his release, and landed with the Rams late in the season.
Joe is intrigued by the Mayfield signing in so many ways, especially how it shouldn't stop the Bucs from drafting a quarterback if the right one is in their sights come late April.