The Devin White Photos
March 6th, 2023
[UPDATE: 2:19 p.m.] Yes, Joe has seen them.
No, Joe has no idea what they mean.
Yes, Devin White posted very cryptic messages on his Instagram stories account this morning. And Joe's not going to do a forensic analysis of what White is trying to say.
Three in particular jumped out.
The is a picture from the Bucs locker room of White tying his shoes with "Thank ya" at the top with a pirate flag and a peace out emoji.
The second was of him on the field with "4 year went by fast" at the top.
The third is a signpost that read "GOD ISN'T ASKING YOU TO FIGURE IT OUT. HE'S ASKING YOU TO TRUST HE ALREADY HAS."
His latest photo as of this writing is a picture of White on the field embracing his teammates.
Yeah, on face value Joe could see how folks could read into it that White has been traded. Or perhaps he got his contract extension and is no longer on a rookie deal? Or he changed the menu at his Walk-Ons franchise? Or maybe he sold a four-year old horse? Or maybe he's pensive because he thinks Lavonte David is moving on?
NFL players love to send out cryptic messages and often they don't mean anything close to what the public perceives them to be.
So who knows what White is getting at here? Perhaps he was just bored this morning?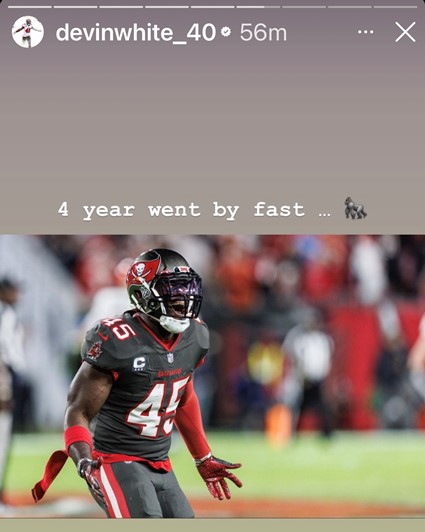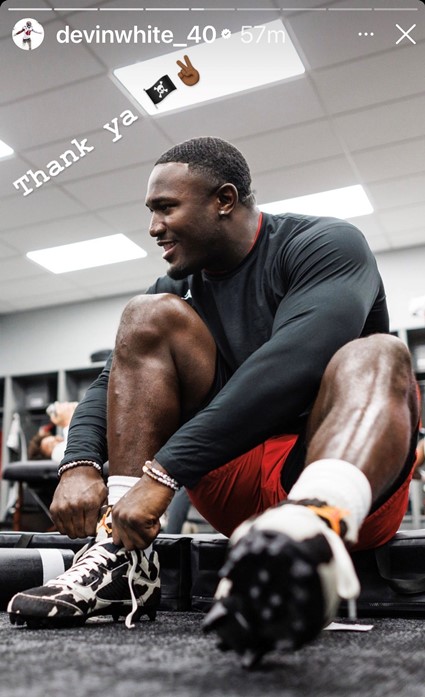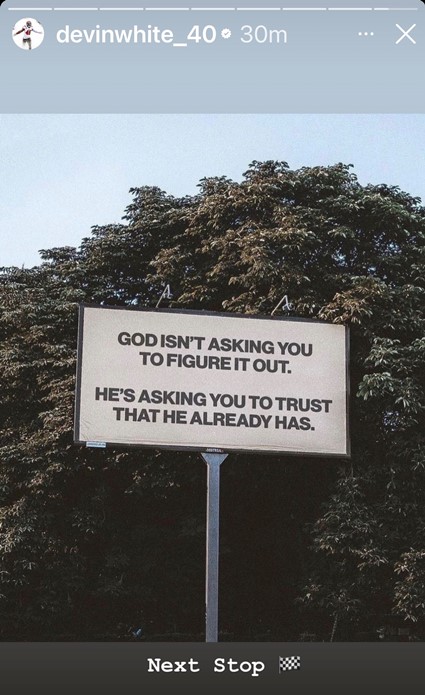 [UPDATE: 2:19 p.m.] White clarified his Instagram stories photos by taking to Twitter (?) explaining he is just appreciative of finishing four years with the Bucs and looks forward to "upside" with the team.
Reflecting on how fast my first four years went by, def a thanks to Bucs fans "good & mean ones lol😂" The upside is scary 💪🏾 https://t.co/Z0KXpHmtwH

— DEVIN WHITE (@DevinWhite__40) March 6, 2023