The Bucs & Devin Singletary
March 12th, 2023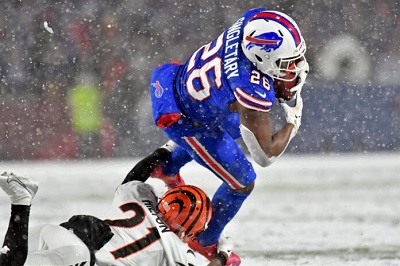 In case you just returned from a trip to Greenland sans Wi-Fi, Leonard Fournette will not be on the Bucs this season and the team is need of a productive and reliable running back to help replace Fournette's big-time production.
Enter one of Joe's favorite backs in the league.
That's Bills running back Devin Singletary. Who doesn't love a 5-foot-7 tough-guy stud of a running back who can also catch the ball?
Joe believes Singletary is underestimated year after year since being drafted by Buffalo in Round 3 of the 2019 NFL Draft. It seems like every offseason the Bills try to replace him and he keeps out-producing the competition.
Last year was another 1,000-plus yards from scrimmage for Singletary, whose average yards per carry over four years is a whopping 4.7. His career has been a model of consistency with 3,151 yards rushing on 672 carries, plus 145 receptions.
It's also extra impressive to Joe that a Florida kid who starred at Florida Atlantic University went up to frozen Buffalo and thrived from Day 1.
The Bills are up against the salary cap and have other running backs. Singletary is expected to hit the market on Monday when the free agency bell rings at noon.
Joe assumes Singletary will be disrespected in free agency — as in he'll be inexpensive — because of his small size and the fact he's never had a 1,000-yard rushing season. His single-season high is 870 yards rushing and 7 touchdowns.
Joe thinks Singletary's no-nonsense but shifty style would be a great complement to Rachaad White. But White aside, 25-year-old Singletary is Joe's kind of player and quickly would become a Bucs-fan favorite.
Most important, Singletary produces year after year.