"Injury Rate" And Jamel Dean
March 10th, 2023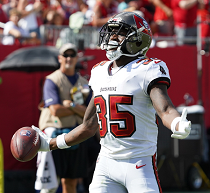 As Bucs No. 2 cornerback Jamel Dean approaches free agency after never making a Pro Bowl or being in that conversation, and never playing a full season, Joe wonders how the Bucs will approach his value.
General manager Jason Licht talked about the Bucs needing to "value" shop in free agency last week because the team is under water with the 2023 salary cap. The free agency frenzy begins at noon on Monday.
The Bucs broke the bank last offseason with cornerback Carlton Davis, paying him nearly $15 million per year on a multi-year deal so he wouldn't reach free agency. Davis missed four regular season games in 2022 (he, too, has never played a full season) and was good but not great.
Do the Bucs want to spend big money — or bigger-than-Davis money — on another cornerback? Would that represent the value to which Licht was referring? That's unclear.
Not counting when Todd Bowles benched Dean on defense in January for the playoffs, Dean missed two games last season and seven through the previous three years. That's solid durability but not great.
Joe heard slimy Saints general manager Mickey Loomis on SiriusXM NFL Radio this week talking about assessing "injury rate" with free agents and how critical that is when a team is looking to give a big contract.
Former Jets personnel director Pat Kirwan, a SiriusXM NFL Radio co-host, shared with Loomis his formula to consider a big-money free agent. It had a durability component to it and Dean would qualify on Kirwan's scale, which included being 28 or younger. Dean turns 27 in October.
Joe loves watching Dean (when he's not in zone coverage). He's long, fast and talented, and he's a superior example of standout defensive backs development under Todd Bowles.
But is Dean worth Davis money, cash the Bucs could use to buy an edge rusher? That's what the Eagles spent on edge rusher Haason Reddick last offseason and he racked up 16 sacks and led the league in forced fumbles.
In one of Licht's many interviews last week at the NFL Scouting Combine, he noted that he's a trenches-first kind of guy. Perhaps that was a tipoff?