DeWayne McBride And The Bucs
March 25th, 2023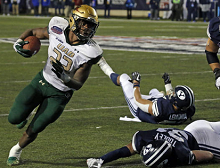 During new Bucs offensive coordinator Dave Canales' final three games as a Seahawks assistant coach last season, he watched a rookie running back hammer away for 354 yards on 78 carries.
The Seahawks won two of those games, as RB Kenneth Walker III was a key cog in the offense and capped an impressive rookie campaign. Walker finished the season with 228 carries for 1,050 yards and 9 touchdowns.
Walker was a mid-second-round pick out of Michigan State and JoeBucsFan.com draft guru Sean Sullivan sees a Walker clone as a wise move for the Bucs in this year's draft. That would be running back DeWayne McBride out of the University of Alabama at Birmingham.
Both Walker and McBride are 210 pounds. Walker has more speed but Sullivan projects them to be similar NFL players. Each was the second-leading NCAA rusher in their final college season.
"Unbelievable as far as power and one-cut ability" is how Sullivan described McBride. Sullivan added that McBride fits a pattern for what Canales values in running backs: power, quick decisions and breaking tackles.
Joe has seen wide draft projections on McBride, including that he's destined for the third or fourth round because it's unclear whether he can be a threat in the passing game.
Joe also has heard of a fumbling concern. But it's safe to say McBride certainly won't last past Round 4, a round in which the Bucs don't yet have a draft pick.