Bucs Ink Running Back Chase Edmonds
March 16th, 2023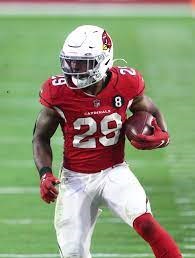 UPDATED 11:43 a.m. – It seems the Bucs, now that journeyman quarterback Baker Mayfield is on the pirate ship's roll call, are focusing on their league-worst ground game.
The Bucs, per Ian Rapoport of NFL Network, have signed Dolphins running back Chase Edmonds.
Edmonds was an OK if not decent running back for the Cardinals, who drafted him in the fourth round in 2018. His rookie season there was with failed offensive coordinator Byron Leftwich and he was always a backup.
It was last year that Edmonds, 26, began to fall off the map, averaging only 2.9 yards a carry with the playoff-bound Dolphins, which acquired him in a midseason trade with the Broncos.
For a running guy like Dolphins head coach Mike McDaniel to let him go in free agency, that's telling.
It seems Edmonds is as much a pass catcher as he is a running back. He's had 42 first downs catching the ball the last three seasons despite just 14 starts.