Baker Mayfield: Leadership Prowess Will Be Part Of Winning Starting Job
March 23rd, 2023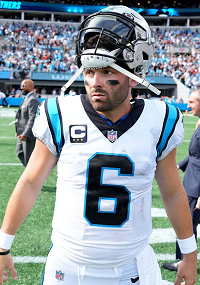 Quarterback controversy/competition always takes on its own life.
In 2018, Jameis Winston versus Ryan Fitzpatrick was a thing. And in 2014, it was Josh McCown versus Mike Glennon.
Those are difficult memories.
In 2018, Jameis agreed to being labeled an NFL sex offender and swallowed a three-game league suspension. He came back in Week 4 and was benched later in the season, only to replace Fitzpatrick late in the lost campaign. (Off-the-record Jameis in the Bucs locker room at MetLife Stadium was a memory Joe won't forget.)
Of course, the Bucs chose McCown over Glennon to get the job done during their tanking era.
Now, it's Kyle Trask versus Baker Mayfield in what's allegedly a legitimately open competition. Allegedly.
Mayfield responded to a leadership question while visiting the Salty Dogs podcast and agreed that demonstrating leadership this spring and summer will be part of winning the starting QB job.
"Absolutely. You know, however you win that competition, you've got to be yourself. You've got to be authentic. You can't force it," Mayfield said, "So, I'm just going to be myself — be that best version of myself I can be and push forward and try to compete."
He went on to acknowledge that sometimes prior coaches have asked him to be something he's not. Mayfield implied he was told to pipe down.
"There's been times where I've been told to try and button up and do certain thing, but that's just not who I am. And that's now how I play the best," Mayfield said. "So I'm going to be myself and have fun while doing it."
Joe is very intrigued to see how seemingly quiet Kyle Trask will approach competing against high-octane Mayfield in the leadership department.
As Joe has written, expect Mayfield to come out firing on Day 1, interacting with coaches and teammates as if it's his team.