America's Backup
March 13th, 2023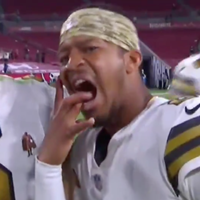 America's Quarterback, Jameis Winston, has accepted a pay cut and will remain with the slimy Saints to be the backup to big-money free agent quarterback Derek Carr.
That's the word from Josina Anderson of CBS.
What a sad day this must be for healthy Jameis (outside of the $4 million plus incentives he'll bank from New Orleans).
Around the NFL there are/were starting quarterback openings and opportunities, but Jameis apparently decided he doesn't have a good shot to earn one of those, so he'll hold a clipboard for Carr.
In 2022, Jameis lost his starting job to Andy Dalton, who was 6-8 in 14 starts. Somewhat ironically and oddly, the Saints, with the same head coach, didn't re-sign Dalton but stayed with Jameis.
What a far fall it's been for 29-year-old Jameis, the former Buccaneers franchise quarterback. The Bucs didn't even want him back this season and are more interested in retreads like Baker Mayfield and Jacoby Brissett.
Perhaps next season will be a fresh start for Jameis with a new team — in football or baseball.