Welcome To The Combine
February 28th, 2023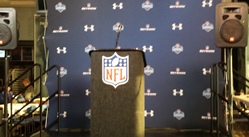 The Kyle Trask PR blitz begins this afternoon.
Shortly after noon today, Bucs AC/DC-loving general manager Jason Licht will pay his annual penance and step up to a podium at the Indiana Convention Center in chilly downtown Indianapolis and give his State of the Bucs address to thousands of accredited NFL media members.
Bucs coach Todd Bowles will do the same after Licht faces the klieglights of #NFLMedia.
When Licht steps up to the podium (Joe believes Licht would prefer to clean diapers than get on that podium), the public relations campaign for Trask as starting quarterback will begin.
Joe expects to hear Licht say how much the team loves Trask and how the Bucs have the utmost faith in him. And Licht will confidently explain how the Bucs can win games this year with Trask leading the way.
What Joe does not expect to hear is why Trask only wore a Bucs uniform for two games in two years and only made one appearance, mopping up for Blaine Gabbert in Week 18 last season.
Other questions Joe would like answers to when Licht faces #NFLMedia in the heart of the Midwest today:
* What about Gabbert? Last year at the combine, then-Bucs coach Bucco Bruce Arians told anyone who would listen how great Gabbert is and that he was the second coming of Josh Allen. Did Gabbert, in a span of a handful of weeks, tumble from valuable backup to Tom Brady and overlooked starter to being unemployable and unworthy of a job? Why and how?
* What's up with Lavonte David? The Bucs legend, 33, is a free agent. Are his days in Tampa over?
* Same with Jamel Dean.
* Back to the Future: What are the Bucs going to do for a pass rush? Just like old times, eh?
* Rumblings are the Bucs want to bring in a veteran quarterback, ostensibly to push Trask. Is that Jimmy GQ? Is that scatterbrain Drew Lock? Is that newly unemployed Carson Wentz?
* Is Playoff Lenny secure in his job for 2023?
* Same with Donovan Smith?
* Is Licht morally opposed to drafting a running back early, since his coach and newly minted offensive coordinator want to run the ball?
* Are Mike Evans and Chris Godwin off the trade market?
By 2 p.m. the direction the Bucs are heading as an organization should be somewhat clearer.
Afterward, Licht can exhale and find a cold beverage to nurse, comfortable in the knowledge that it will be another 12 months before he gets pestered like that again. Sort of the way most people feel each April when they mail checks to the IRS. A necessary evil each spring.