Todd Bowles Talks Sean Murphy-Bunting (Video)
February 28th, 2023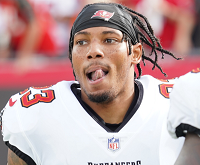 Joe is busy collecting all kinds of goodies at the NFL Scouting Combine in Indianapolis and there will be plenty to share here all day and night.
Bucs head coach Todd Bowles hit on all kinds of subjects.
Joe caught video of one Bowles take on pending free agent cornerback Sean Murphy-Bunting.
The Bucs' second-round pick in 2019, Murphy-Bunting is one of several defensive backs that don't have a contract for the 2023 season, including fellow 2019 draftmates Jamel Dean and Mike Edwards.
Bowles loves Murphy-Bunting's smarts and how strong he came back last season from injury. After listening to a lot more Bowles chatter, Joe is convinced would love to have all his free agent defensive backs return, including Logan Ryan.
You can listen to Bowles' 22-second take on Murphy-Bunting below. Will the Bucs re-sign him? The free agency dinner bell rings in 13 days.