Time For The Long Play, Not The Wrong Play
February 6th, 2023
BY IRA KAUFMAN
Two years removed from the mountaintop, the Glazers find themselves standing at the NFL crossroads.
The path ahead is dangerous, fraught with potholes in the shape of draft busts and free-agent gaffes, yet this organization's steps should be clear.
Don't look back.
Don't look at that 29-10 record in the first two years of the Tom Brady regime and be fooled into thinking this is still a championship roster with some tweaking. Those glory days are gone and this roster is old and slow.
There are very good young pieces like Tristan Wirfs and Antoine Winfield Jr., but not enough to seriously challenge for the Vince Lombardi Trophy. It's time for the long play, not the wrong play.
Todd Bowles doesn't want to take a step back. Why should he? He wants another veteran quarterback as Brady's successor so the Bucs can enter next season as the favorites to capture a third consecutive division title.
Guess what? It's not Bowles' call to make.
Jason Licht might be a little conflicted.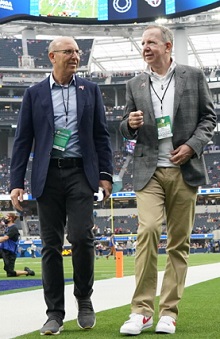 A 5-12 record wouldn't look good on Licht's résumé, but suppose Kyle Trask surprises everyone and gets the job done. That would look very good on Licht's resume.
Guess what? This call is above Licht's pay grade. Only the Glazers can chart the course for this franchise — and they will.
Acquiring Derek Carr isn't going to fill Raymond James Stadium this fall or garner the Bucs an additional prime-time game.
By the way, Carr turns 32 in March and the next postseason game he wins will be his first. In nine years with the Raiders, he averaged seven wins and made the playoffs once.
Once.
Can the Bucs win the NFC South with Carr, whose best asset is his durability? They probably can, but the Glazers are supposedly in this venture to rake in money and championships.
Don't let good be the enemy of great. This team needs a young quarterback to build around. If it's not Trask, tell Licht to find somebody else. He took his shot with Jameis Winston in 2015 and it didn't work out.
That's a big miss, but one that many rival general managers would also have made with that first overall pick in that particular year.
Swimming Lessons
Treading water is the wrong way to go for ownership. Eventually, you drown. Listen to Jimmy Johnson, who knows a thing or two about building a championship NFL franchise.
"Do you want to be safe and good, or do you want to take a chance to be great?" Johnson asks.
Carr is safe and good, but he's far from great. Brady's retirement announcement provides the Bucs with some clarity. They need to take advantage and craft the proper vision, one that will lead to sustained success.
Since their inaugural 1976 season, the Bucs have never had the same guy under center for more than five years. Of the seven quarterbacks with more than 15 career victories in Tampa, only Brad Johnson (29-24) and Brady (37-20) boast winning records as a Buccaneer.
That has to change — and it has to change soon.
The 2024 draft looks like a quarterback-rich environment, led by Heisman Trophy winner Caleb Williams. Sean Payton terms Williams "a generational talent," a player so coveted he could trigger the NFL to adopt a draft lottery in an effort to dissuade tanking.
In the interim, the Bucs need to shed salary and give younger players more snaps. An 8-10 record with Brady playing every game was a loud wake-up call to the Glazers that glory days have passed them by.
It's time for brutally honest organizational meetings. When you find yourself at the crossroads, taking a step back just might get you where you want to go.