Team Glazer, Jason Licht Say Positive Tom Brady Impact Will Be Felt For Years
February 1st, 2023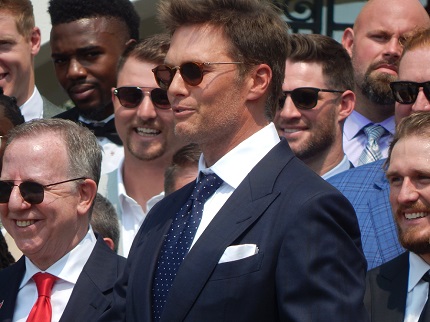 Joe has written about the alleged lasting Tom Brady effect a couple of times this morning, and now honchos at One Buc Palace are putting the names on it.
The Buccaneers released statements from Team Glazer, Todd Bowles and Jason Licht about Brady's retirement today.
Bowles didn't mention a lasting Brady effect, but Licht and Glazer did.
Statement from the Glazer Family on Tom Brady's Retirement
"Tom's impact on our franchise these past three years has been immense and we are appreciative of the time we had with him here in Tampa Bay. He set an exceptional standard that elevated our entire organization to new heights and created some of the most iconic moments in our history. Tom's impact will be felt within our community for many years to come and we will forever be grateful for those unforgettable memories that he provided during these final seasons of his legendary career. We wish him the best in this next chapter of life and are confident he will find similar success in his future endeavors."

Statement from General Manager Jason Licht
"Tom's legacy is unmatched in the history of this game. All the Super Bowl titles and statistical records speak for themselves, but the impact he had on so many people through the years is what I appreciate the most. His imprint on this organization helped take us to the mountaintop. We will certainly miss him as our quarterback, but I will also miss him as a leader and friend. Our entire organization is indebted to him for what he provided us over the past three years. We won't ever forget the wins or the accolades and his influence will be felt for years to come."
Since Licht and Team Glazer insist the positive Brady effect/influence will be felt and realized for years, then Joe is going to hold them to that.
If the organization has been elevated, then there's no reason to go back to the football follies of The Lost Decade.