Tag! You're it, Lamar Jackson.
February 22nd, 2023
Podcast (toddcast-todd-wright-podcast): Play in new window | Download | Embed
Subscribe: RSS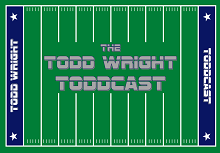 In this edition of The Todd Wright TODDcast, Todd reminds everyone of his prediction that Lamar Jackson was done as Ravens QB after the 2022 season and how the coming days could create a simple path out of Baltimore. The Todd Wright TODDcast is presented by Brandon Legal Group and Bill Currie Ford. Click above to listen or to download. Or listen on Stitcher here, Google Podcasts here, and on other platforms.
PRESENTED BY