Report: Tom Brady Told Confidants It Was Bucs In 2023 Or Retirement
February 1st, 2023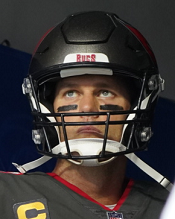 Interesting nugget from Tom Brady insider, the pride of Pinellas County, Jeff Darlington on ESPN Radio this morning.
Darlington long has been acknowledged as the lone reporter with legitimate personal ties to the Brady camp.
After Brady's public retirement about 8 a.m. this morning, Darlington hopped on BSPN radio and said the Bucs were informed of the news about 6 a.m. And Darlington added this gem. He said Brady had been telling those close to him that if he played in 2023, "it was going to be the Bucs or he was going to retire."
Darlington acknowledged that some close to Brady didn't believe him but it turned out to be true.
That has Joe wondering how the Bucs approached Brady's status for 2023 during the past couple of weeks. It sounds like Brady certainly told Jason Licht and Team Glazer that he'd play for them if he decides to play.
Did that affect offensive coordinator interviews? It was reported that the Bucs were asking several candidates how they would craft an offense for Brady.
Flash poll posted at 9:31 a.m.