Playmaker Anthony Nelson
February 16th, 2023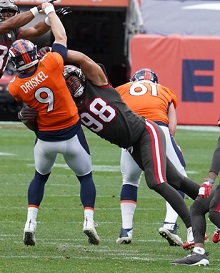 Barring a completing gutting of the Tampa Bay roster, the Bucs will have to have to re-sign at least a few of their productive free agents.
One guy already was called out by head coach/defensive playcaller Todd Bowles as a guy he wants to return.
That would be edge rusher/outside linebacker Anthony Nelson, the Bucs' fourth-round pick in the 2019 NFL Draft.
And why wouldn't Bowles want Nelson back? He developed Nelson, who has proven to be durable and is possibly the best healthy pass rusher the Bucs have.
With Bucs sacks king Shaq Barrett healing a torn Achilles, an injury that could last well into the fall, Nelson would be a tough piece to lose. He's solid against the run and finished last season with 5 1/2 sacks and 3 forced fumbles. That's more production than Joe Tryon-Shoyinka in about 200 fewer snaps, and JTS is shaky in run defense.
Veteran defensive lineman Will Gholston is another pending Bucs free agent. He was on WDAE radio last week lauding Nelson as a playmaker.
Gholston and Nelson have been working out together this offseason, Gholston said, and Gholston said he's been reflecting recently on how it seemed Nelson made a play every week after Shaq went down injured in October.
Another Bucs pending free agent edge rusher, Carl Nassib, also was a Bucs free agent after the 2019 season. Nassib got a three-year, $25 million deal from the Raiders in March of 2020. Joe thinks Nassib of 2019 and Nelson of 2022 were similar players.
Would Nelson, who turns 26 next month, command in free agency what Nassib did three years ago, around 8 million per year?
Joe doubts Nelson would get that much on the open market, but Joe could see Nelson finding offers for $6 million-plus year.
With the Bucs now strangled by the salary cap, it's hard to imagine Nelson getting paid by Tampa Bay. But with Shaq wounded and Tryon-Shoyinka looking average at best, Joe imagines Bowles will be standing on Jason Licht's desk demanding Nelson gets a new deal.