New Playcaller Praises Leonard Fournette "Attitude," Craves Do-It-All Running Back
February 24th, 2023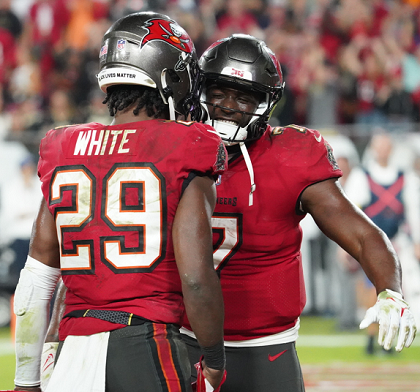 Bucs fans everywhere are eager for every morsel of information that could provide clues to how players will be used in the Buccaneers' new offense.
First-time playcaller and offensive coordinator Dave Canales paid a visit to WDAE radio and was asked about running back Rachaad White.
Canales didn't pick an exact role for White or say he'd be the go-to guy, but he did acknowledge his hunger for an every-down running back and that White has that kind of potential.
"As a pass-game background guy, [I'm] just really coveting the opportunity to have a really all-down, like every down back to be able to attack the defense in the run game, the pass game and the screen game," Canales said.
He added that his beloved Seahawks, from whence he came to Tampa, "always had two backs in Seattle that we gave the ball to."
Enter Leonard Fournette. Canales said he likes "the attitude" Fournette brings, after previously nothing Canales' priority is a Fournette speciality.
There was no mention of any other Bucs running backs.