Might The Bucs Turn To Andy Dalton?
February 22nd, 2023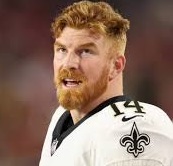 A potential compromise may be in play at One Buc Palace.
Joe has stated many times that Todd Bowles likely is disinterested in rolling with a rookie quarterback or Kyle Trask. And, for Bowles, that's a survival instinct.
Bowles has to know another losing season might get him cardboard boxes and a pink slip from Team Glazer. But Bucs management realistically doesn't have the salary cap room to bid for a mega-money quarterback and still retain all its core talent. So what if Bowles is told he can go with a veteran if the guy comes super cheap.
Heck, Bucco Bruce Arians himself, a mentor to Bowles and Bucs general manager Jason Licht, said himself that rolling with Blaine Gabbert or Trask last season was a recipe for failure.
Enter durable three-time Pro Bowler Andy Dalton. He's the quarterback who completed two-thirds of his passes (18 touchdowns, 9 interceptions) and went 6-8 as a starter in New Orleans last season. He did all that for a $3 million salary after the Saints benched Jameis Winston.
Retired Pro Bowl QB Matt Cassel, a busy man in Boston media and elsewhere, recently ranked NFL quarterbacks and had Dalton as the 22nd-best QB in the league, one notch ahead of Russell Wilson and one behind Jimmy Garoppolo.
That's a hell of a ranking for a guy earning peanuts.
If the Bucs and Bowles are celebrating what new offensive coordinator Dave Canales did in Seattle with Geno Smith, perhaps they think he can turn 35-year-old Dalton into the next Carson Palmer or Rich Gannon?
Dalton doesn't throw a lot of picks and has proven to be a very quick study at his last three stops: Dallas, Chicago and New Orleans, where he had a combined 13-16 record as a replacement starter. Joe suspects those traits impress Bowles.
Joe is not lobbying for Dalton, but much stranger things have happened in the NFL.
Joe certainly could see Bowles asking for permission to let Dalton and Trask battle for the starting job.