Family "Obligations" Tied To Tom Brady Decision
February 2nd, 2023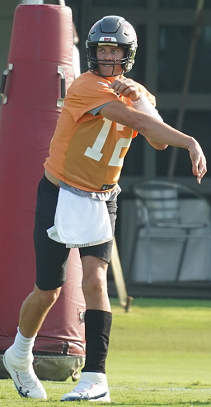 NFL Network insider Ian Rapoport is in Alabama at the Senior Bowl where Bucs officials are sniffing out potential draft picks, and it's a safe bet Rapoport had a conversation with said officials on Monday — before Tom Brady retired.
Rapoport strongly implied that during his visit to The Rich Eisen Show yesterday.
He said that on Monday afternoon, "I learned about these family obligations he has, his desire to be in Miami to be with his kids on a regular basis." After hearing of Brady's priorities, Rapoport said Monday afternoon was the first time he considered, "You know what, maybe he won't play."
Interestingly, Rapoport added the people he talked to "thought that [Brady] would play."
Joe wonders about Brady's "obligations," Rapoport referenced. Perhaps they're legal in nature and tied to a divorce agreement?
Regardless,  Brady is gone. Joe knows that. But what really interests Joe here is what the Bucs thought Brady would do and how that might have affected their many offensive coordinator interviews conducted over the past 10 days.
And will the finality of Brady's second retirement possibly set the Bucs on a new course?