"We're A Lot More Ready"
January 14th, 2023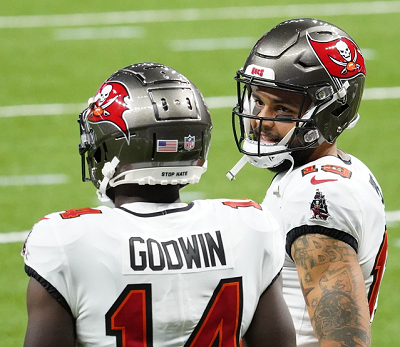 A lot of pundits are blubbering that the Buccaneers have a lot less pressure on them to win Monday than the Dallas Cowboys do.
Joe doesn't buy it, but Chris Godwin seems to.
Godwin sat down with RGIII (Robert Griffin, III) and the BSPN cameras and explained that the Bucs are battle-tested because they've had so many fourth-quarter wins. That should be a factor, per Godwin, in what he thinks will be a tough game.
Experience, preparation and talent sets the Bucs up to play loose, he said.
"We're a lot more ready to handle the adversity that's going to come," Godwin said. "… We know that we'll fight to the end. Understand that. And understand that we put the work in and that we have our guys. Just go out there and play. Let it loose."
The "a lot more ready" reference was to where the Bucs are now versus in Week 1 against the Cowboys. Again, Joe isn't buying it.
The Bucs were a battle-tested veteran team in Week 1 coming off a 22-5 run under Bucco Bruce Arians. They were ready for anything, healthy and steaming with confidence, something they haven't had consistency all season.
Regardless, Joe loves the Godwin attitude, and hopefully the whole roster feels the same way.
Joe can only imagine how crazy detailed Tom Brady has been in preparation for Monday. Not only did he have an extra day to prepare, he likely started when the Bucs locked down the NFC South title two weeks ago.