"We Just Gotta Use Him More And More"
January 11th, 2023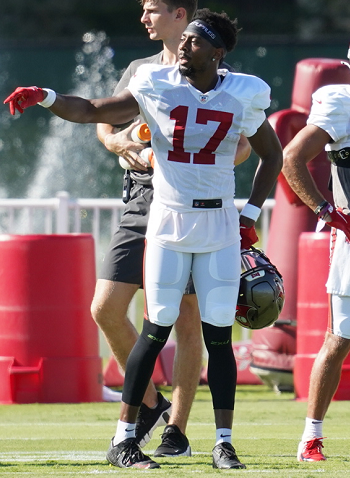 Receiver Russell Gage got quite an endorsement from head coach Todd Bowles.
Gage has 51 catches and 5 touchdowns in 13 games this season, and it has not been a good season for him, despite catching a career high 73 percent of the balls thrown his way. Hey, that's the same percentage as surehanded Chris Godwin!
Gage, 27, the Bucs' big-money free agent signing, has battled injuries since training camp and hasn't flashed the yards-after-catch skills and dynamic play he was known for in Atlanta. Still he's a valuable asset and by all accounts is getting a lot healthier.
Bowles lauded Gage yesterday on the Buccaneers Radio Network and said the Bucs need to get him the rock.
"He's comin' on. I mean, he's really comin' on," Bowles said. "His worth ethic and his toughness on the field goes unmatched. Obviously, his blocking and his catching skills — we just gotta use him more and more."
Bowles added that Gage did not sustain a significant injury against the Falcons on Sunday and he'll be ready for Monday night's playoff game.
Joe was surprised to hear Bowles drop that kind of love on Gage. Unmatched work ethic and toughness? That's a guy who plays alongside Godwin and Mike Evans!
Whatever this season was about for Gage, it's in the rearview mirror. Monday would be a great time to see the electric guy the Bucs signed in March, presumably with a strong recommendation from Tom Brady.