Too Scared To Ask
January 2nd, 2023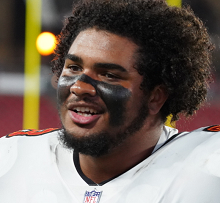 After two amazing seasons with the Bucs and a training camp that saw him take an unexplained leave of absence, the stories of Tom Brady's work ethic sort of dried up.
It either became a given in the eyes of media and players, or it wasn't quite the same any longer and wasn't something to celebrate in the same way.
Well, Kalyn Kahler of TheAthletic.com was patrolling One Buc Palace in recent days and wrote about Brady's grind and drive in a long feature. The Brady way, it seems, as not waned.
Cornerback/safety Logan Ryan shared a story about giving up trying to beat Brady to the New England facility and that hasn't changed in Tampa.
… Now in his 10th season, Ryan is passing on Brady's lesson to young Bucs players who ask him what is the key to NFL longevity.

"How do you let the oldest guy in the room beat you to work?" he said. "How do you let the guy who has the most money in the room beat you to work? How do you let the guy who has the most Super Bowls in the room outwork you?"

Brady's work ethic has inspired the Bucs secondary; Ryan says its members frequently come in early for extra meetings that other position groups don't do.

When he heard about Ryan's takeaway from Brady, Wirfs said he'd noticed that too. "(Brady's) car is always here," Wirfs said. "You're like, what time do you get here? I'm too scared (to ask him). Some days like, if we lift in the morning, I'm here early, Oh, there's this car. I look down there and there is his car."
Joe can only guess how Brady's divorce led to even greater football dedication, and how he will be all-in to the extreme this month.
Also, Joe isn't surprised Brady lit up Carolina in his second game against them. His football IQ is too high to not make a bunch of adjustments as long as Dennis Allen isn't calling a defense. That could bode very well against the Cowboys in the playoffs — if the Bucs play the Cowboys.