Tom Brady Explains Appeal Of His Fine
January 23rd, 2023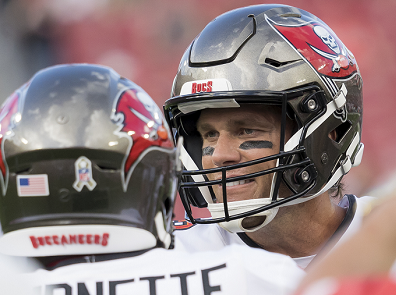 So Tom Brady was fined $16,444 for an attempted cheap shot/trip against Cowboys safety Malik Hooker last week (video below).
Brady can afford it and so can his reputation. And while Brady admits to what he did, he thinks it has no business qualifying for league punishment.
The Goat explained on his Monday Let's Go! show on SiriusXM Mad Dog Radio.
"I'm a little disappointed, though, because I tried to tackle [Hooker] with my right shoulder and missed him," Brady said. "And I wasn't going to try to stick my arm out, so I was trying to get him on the ground. I missed him completely. I didn't even hit him. I tried to trip him but I didn't. So, I don't know how you can get fined for something that didn't even happen. Are they fining an intention? It's like targeting and you miss the person you hit, and they still call it targeting. So, I got to figure out and understand why this is the case. This is why I wish our NFLPA was stronger."
Brady has a point, but not a very good one, though it's clear the NFL might need to refine its rules when it comes to a failed attempt at a cheap shot. And yeah, sliding to tackle a ball carrier from behind is a cheap shot.