Todd Bowles Talks About His Connections And Disconnections With The Offense
January 17th, 2023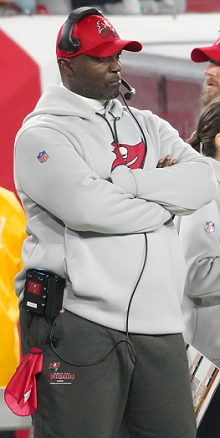 So how involved was Todd Bowles in the offense this season?
That's a complex question and every nuance of the answer might not be extracted for months.
Joe asked the head coach about that aspect of his job this afternoon.
When Bowles was hired, he explained that defensive players each know him well and understand what he expects. For offensive players, Bowles said it would take time. So Joe asked Bowles if he reached that goal of getting to know his offensive players and connecting with them at the level he seeks.
"Most of them, yeah. You know, most of them, yeah. You still gotta connect with a few more," Bowles said. "But you try to take time out and talk to a lot of the guys and get to know them and have them get to know you. I don't think it's a forced thing, but I thought we got along but we had some chemistry and I think we have a good understanding of each other."
Bowles sounded like he thinks that bonding with the offense is a work in progress.
Joe also asked Bowles whether he had the influence on the offense that he desired. He replied by implying he stayed rather hands off because it was an offense set in its ways entering its fourth season with coordinator Byron Leftwich.
Joe found Bowles' choice of words interesting.
"I don't think you can have as much influence as you want on an offense that's been together for four years and that's what they do," Bowles replied. "You make your talks and you have your meetings and your conversations, and you try to help wherever you can from a defensive side of the ball. I've tried to help them make sure they're seeing what they see and go on from there. But, you know, you can't chime in every play when the offense is on the field because that doesn't allow them to try and do their job."
Joe gets what Bowles is saying about the offense doing "what they do" after many successful seasons together, but that's also where Joe disagrees.
When it became clear the offense was struggling consistently (November?) and repeating the same problems, Joe thinks Bowles should have been more hands-on trying to fix it.
The Bucs finished 3-5 after the bye week (including playoffs) and the offense sputtered through December.
Joe is confident the Bowles influence will be a lot greater next season with a new offensive coordinator.