Ryan Jensen Details His Injury
January 17th, 2023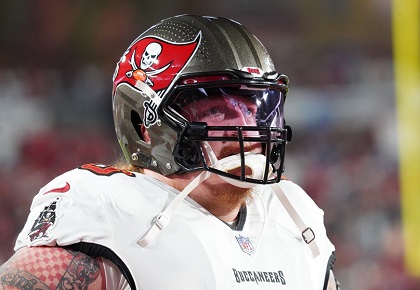 Bucs Pro Bowl center Ryan Jensen led an acronym festival last night at his locker in the somber Buccaneers locker room.
Finally, explained what happened to his knee when he crumbled to the ground in late July.
ACL, PCL, MCL? All torn, Jensen said, plus he messed up his kneecap and had a bone break.
Jensen explained it was a partial tear of his ACL "about halfway through."
Every doctor but one told him he needed surgery, Jensen said, so he went with the guy who said, "give me eight weeks." Healing went well in those eight weeks so Jensen grinded ahead.
Joe asked Jensen if he expects to need surgery after the season and while Jensen said he wasn't sure, he also said he expects not to.
Amazing stuff! Jensen credited Tom Brady for helping and supporting him through the healing process. And Jensen added that there was no way he was coming off the field against Dallas.
It wasn't perfect for Jensen, but it was damn good. His return next season healthy will be a welcome sight.