No Reported Head Coach Interview Requests For Byron Leftwich
January 19th, 2023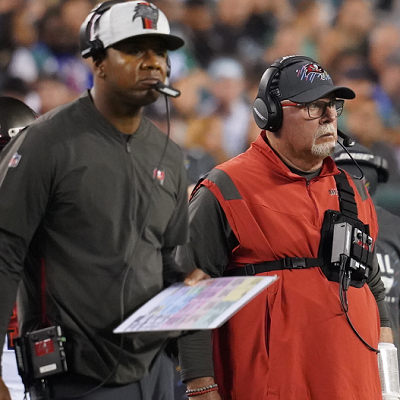 Joe is wondering how much pull Bucco Bruce Arians has in NFL circles.
Bucs offensive coordinator Byron Leftwich is an Arians' guy. Arians believes Leftwich is head coach material, a man with a Super Bowl ring as a player and a coach, and a smart young dude with an old-school approach and the proper training.
Consider what classy 84-year-old Tom Moore, the widely-respected Bucs' senior offensive assistant, said about Leftwich as a head coach candidate. Moore, who is not one for hyperbole or nonsense, thinks Leftwich is a special coaching talent.
"I'll say this to you. I've been around a long time. Byron is absolutely fantastic," Moore said. "He is a great presenter of game plans. He has a great rapport with people. He had a great rapport with Tom [Brady]. And in my personal opinion, Bruce has done a fantastic job of training Bryon to be a head coach. He trained him to be a coordinator, and Bruce lets him go.

"Now Bruce gave up playcalling, which was very, very dear to Bruce and he loved it. But he has so much faith and so much trust in Byron that he gave it up to him and let him do it. And he's done a great job. And as I've told people, he just had a four week interview with the four playoff games. It is what it is; if you don't like that, I don't know what you like."

"[Leftwich is] really good. I sit in on most all these meetings, not to check on him or anything like that. I learn stuff, too."
Fast-forward to yesterday, and Leftwich was available, per league rules, to interview for a head coaching gig. There were no reports of teams interested or calling the Bucs to schedule an interview with Leftwich, who is under contract to Tampa Bay.
Joe surely understands why Leftwich is unwanted coming off a terrible year for the Bucs offense. But owners don't necessarily think that way and they're also subject to influence from recommendations. (See Team Galzer in 2012.)
And maybe there's an owner out there who likes Leftwich's body of work?
Joe wonders whether Arians has recommended Leftwich to the Cardinals and Colts, two teams with openings and where Arians is tight with ownership. And Joe wonders if the Bucs are delaying firing Leftwich so he doesn't have an instant firing on his résumé while he hoped for an interview.
That certainly would be the classy move by the organization if there's a replacement playcaller already waiting in the wings.