"My Heart Ain't Got Much Left In It"
January 1st, 2023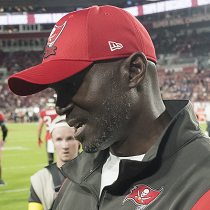 No surprise, but Todd Bowles didn't look like a man celebrating a division crown after today's game, his first in five seasons as a head coach.
Like it or not, he's a chill dude.
Rock Riley asked Bowles how he felt about winning the division and getting to the playoffs and Bowles seemed unsure of how to react. He started talking about goals instead of feelings and then sort of caught himself, "My heart ain't got much left in it, but I feel great. We're at one spot we need to be. We can't get to where we want to be unless we win the division. We won the division."
The head coach talked last week about yearning for a double-digit victory. He didn't get it today, though he should have.
The Bucs were damn sloppy closing out the game but wacky punter heroics kept Bowles' heart from losing even more gas.
Joe likes that Bowles and the coaching staff now can turn their preparation to the playoffs with a week to play. There's no need for Bowles to waste his valuable time on the Falcons. He should have his feet up recharging and poring over Cowboys and Eagles film in the next few days.
Joe wants the defensive guru in Bowles to hand off the next game to his assistants and dial in on what counts.
At least Bowles opened a little in the locker room with the cameras flowing. Joe has no doubt how jacked up the coach is by today's win.