Michael Irvin: Tom Brady Didn't Have Enough Around Him
January 28th, 2023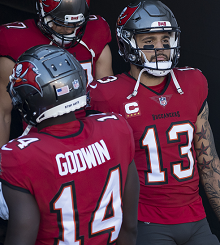 Easily excitable Hall of Fame receiver Michael Irvin got plenty of time around the Bucs this season, including in Germany while working for NFL Network.
Irvin is the rare big name who works for both ESPN and NFL Network as an analyst, and he was pressed this week on Las Vegas sports radio (1140 AM) about Tom Brady coming to the Raiders.
Irvin is not in the camp that Brady is washed. But he does believe Brady needs a lot of help around him and an offense similar to the one employed by Raiders head coach Josh McDaniels.
He characterized McDaniels' system as an "offense more about quarterback decisions as opposed to a quarterback's arm strength. "
Irvin talked about how great and smart pass catchers "sustained Tom" in past seasons. Irvin said Chris Godwin nearly pulled that off this season but couldn't without "the tight end" and too many injuries on the Bucs' offensive line. Interestingly, Irvin offered no commentary on Mike Evans.
However, Irvin didn't bite on calling the Raiders a favorite to land Brady. He agrees the Raiders have the tight end and multiple receivers, but they have O-line questions that need to be addressed.
Joe gets that Vegas is a fun place that features retractable dome stadium with natural grass, good weather and a familiar offense attractive to Brady. But the Bucs have plenty to showcase, too, including a Pro Bowl center returning, a willingness to cater to Brady, familiarity and a miserable NFC South plus a slate of games next season against the woeful AFC South.
If Brady wants a title, Joe would suggest Tampa Bay with Brady has a far better shot of making the playoffs next season than the Raiders with Brady.