LeBron James Picks The Bucs
January 14th, 2023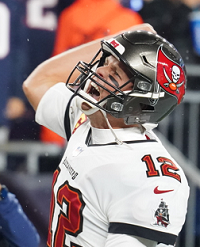 Joe will take any good mojo heading into Monday's Bucs playoff-opener against the Cowboys.
The man who in a matter of days will be the NBA's all-time leading scorer, LeBron James, knows a thing or two about being a goat. And that's what has him putting his money on the Bucs this weekend.
A noted NFL fan, James was asked today for his NFL picks in the wild card round, per ESPN TV.
James said Seahawks-49ers is (was) a tossup game, and he said he was looking for a Chargers "W" against Jacksonville along with the Bills beating the Dolphins and the Vikings taking down the Giants. He's also got the Bengals if Lamar Jackson doesn't play. And in the Bucs-Cowboys game? That was a quick answer.
"I'm not ever going against Tom," James said.
Joe hopes James is a wise man. Tom Brady has let a ton of gamblers down this season as the Bucs were last in the NFL against the spread with just four wins.
Why was that? A big reason was all those people "never betting against Tom" driving wagering on the Bucs, which often made the Bucs more of a favorite than they should have been.