January Lenny Gets Ranked
January 12th, 2023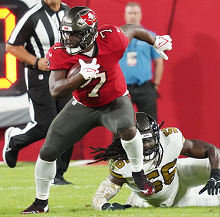 The regular season is in the books, which means one former NFL running back has ranked his top running backs around the league.
It's an annual exercise for Maurice Jones-Drew, the retired three-time Pro Bowl back.
He hopped on the pages of NFL.com and found his way to the Bucs at No. 20. That's where he placed Leonard "Lombardi Lenny" Fournette among NFL running backs.
Fournette's per-carry average decreased by an entire yard from last season. He battled a foot injury during the second half, losing some of his explosiveness and the starting job to third-round rookie Rachaad White. Heading into to the playoffs, the Bucs are no doubt hoping Fournette can replicate 2020, when he followed an underwhelming regular season with a huge postseason effort.
At No. 19 ahead of Lombardi Lenny was Texans rookie Dameon Pierce (939 yards rushing), Bears RB David Montgomery (801 rushing yards, 34 catches) was behind him at No. 21.
Jones-Drew is accurate. Lombardi Lenny's yards per carry fell from 4.5 last year, efficient and competitive, to 3.5 this season, embarrassing and reminiscent of Peyton Barber. The 73 receptions really set Lombardi Lenny apart, though, along with his legendary ball security.
The wild card is the special postseason history of Lombardi Lenny, not just with the Bucs but in Jacksonville, too. His beastly performance as a rookie in Pittsburgh (3TDs, 109 yards) against a stout Steelers defense was damn special.
For those into largely meaningless but interesting data, the Bucs are 5-1 this season when Fournette gets 14 or more carries. And five of the top-10 running backs ranked by Jones-Drew are on teams that missed the playoffs.