Expect A Sea Of Cowboys Blue
January 9th, 2023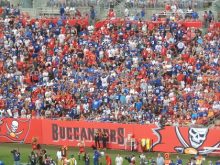 A quick peek at the Buccaneers' official ticket partner, TicketMaster.com, reveals thousands of Tampa Bay fans have lined up to sell their playoff tickets to the highest bidder.
It's kind of a somber sight, but Joe certainly is not against fans wanting to cash in. That does mean, however, that Tom Brady best be working on his silent count this week in practice.
Todd Bowles might as well bring in the noise machine so the Bucs can practice communication on third down — because legions of Cowboys fans will be screaming when the Bucs have the ball on Monday night.
When Tampa Bay hosted a playoff game back in January 2008, a sea of blue (Giants fans) filled the stadium and the tailgate lot. Joe remembers it vividly. There must have been 20,000 Giants fans in the house. (The photo above is from that day.)
There were no home playoff games during the 2020 season playoffs (only the Super Bowl) and last year Eagles and Rams fans didn't travel extremely well to Tampa when the Bucs hosted postseason games. But it will be different this season. The Cowboys are "America's Team" (barf) and while the Bucs are Tampa's team, they have been rather uninspiring this season.
The Bucs have an online strategy for Bucs season ticket holders to access extra tickets with verification of their commitment to Team Glazer's wallet. But that will only help a little to bit, and they're unlikely to buy — and keep — all the available tickets. Season ticket holders are not obligated to buy playoff tickets, so those unclaimed get released to the masses.
Monday should be a wild night at The Licht House, on the field and in the stands.